I've been wondering what my first post on my brand new, spiffy blog would be, and this seems as good as any.
Tomorrow is Memorial Day. During this on-going time of war, it's important that people celebrate for the right reasons. I come from a family of veterans, and while we have been lucky enough to never lose anyone in war, our veterans have lost buddies who fought right next to them during harrowing times.
So, tomorrow, when my extended family gathers for our cookout, we will be doing so in honor of these buddies. I hope that you will do something similar to honor those who you have known, directly or indirectly.
For the cookout, I was given the job of dessert. I think I was given this job because many of the women in my family believe dessert is the most stressful dish to make because it often involves THE dreaded word: Baking. Little do they know, they are getting nothing baked from this girl.
Behold! The Strawberry Shortcake in a Jar!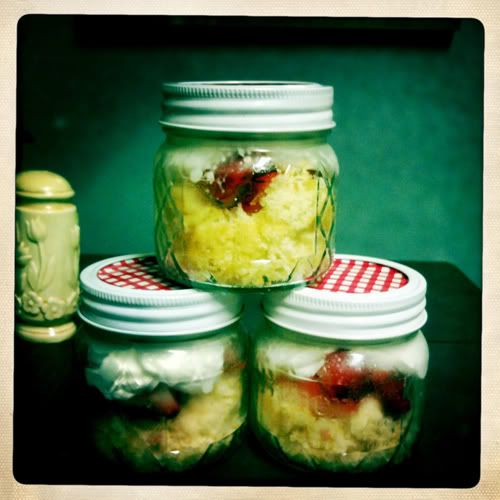 When it's hot outside, there is nothing better than strawberry shortcake.
Here's what you need:
1/2 pint jars (I bought mine at Walmart for $8.)
A Package of Shortcakes
A Carton of Strawberries
A Container of Whipped Cream
Sugar
First, quarter your strawberries and sprinkle roughly a tablespoon of sugar on them. Leave them in the bowl to juice a little while you prepare your shortcakes.
Second, crumble all of the shortcakes in a glass bowl. There's usually 6 to a package. Since I filled up 12 1/2 pint jars, I used 2 packages, making it roughly 1 shortcake per jar. You can do more or less depending on your taste for shortcake.
Third, start layering your ingredients. As you can see, I filled mine with a layer of shortcake first. I then put 6-8 quarters of strawberry on top of the cake. Then, I spooned whipped cream on top of the strawberries up to the bottom of the rim.
Lastly, I spooned some of the juice from the berries over the whipped cream and added one strawberry quarter to the center. It looks like a little heart sitting in a pillow of white.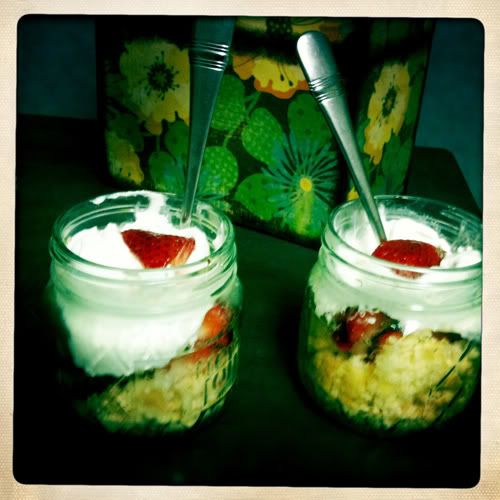 These can be eaten immediately, but they're really good if they sit in the refrigerator for a little while. All of the juices from the strawberries run down into the shortcake, making it entirely sinful.
And because I knew we wouldn't be able to wait until tomorrow to try it, I made four extra for me, the hubby, and the 2 munchkins.
I'd say the treat was a success.
Happy Memorial Day, everyone! God Bless our Troops!