I love the fall. It's my favorite time of year. The weather is gorgeous, college football is in full swing, Halloween gives me reason to eat obscene amounts of sugar, and we gain an hour of sleep when the clocks change.
I also love fall foods. Soup. Chili. Chowder. Pumpkin Pie. Baked Apples. Stuffing. Hot Cider. How can anyone argue that these aren't the best foods?
This fall, I've decided to make use of my Slow Cooker, mostly because we are SO DAGUM BUSY! And when we get busy, it usually means we eat out a lot more, which is never good. Not just because it's unhealthy, but because it's just gross a lot of the time. Why spend $30 on food for the family if the food you get isn't excellent?
So, I've pulled out the Slow Cooker. And I've pulled out my recipes that are easiest to do in the Slow Cooker.
The first is my chili recipe, which has been adapted and shaped over the years from a very basic recipe I found on the back of a canned tomato can. (I don't remember which one.)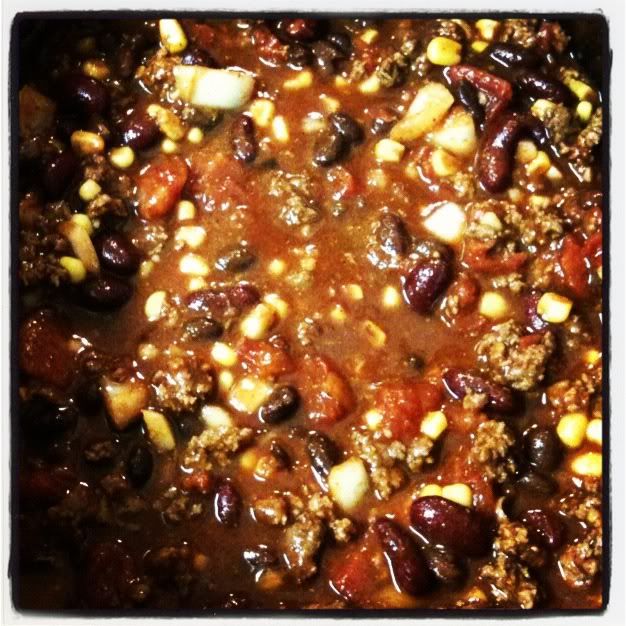 Ingredients:
Ground Hamburger or Ground Turkey (Venison would work, too)
1 can of stewed chili flavored tomatoes (with juice)
1 can of whole kernel corn (with juice)
1 can of light red kidney beans (drained well)
1 can of black beans (partially drained)
3 cloves of garlic, minced
1 small onion, finely chopped
1 small can of tomato paste
1/2 tbsp chili powder
1 packet of chili seasoning
2 dashes of cinnamon
2 dashes of celery salt
1 bay leaf
salt and pepper to taste
Directions:
Brown meat and drain thoroughly
Add all ingredients to Slow Cooker
Cook on low for 4 hours
Remove bay leaf before serving
Garnish with shredded cheddar cheese and chopped green onions if desired.
I usually serve this with tostitos or cornbread. It depends on how "hands on" I want the meal to be. My children LOVE this. During cooler/cold weather, this meal makes the rotation in our house usually once every week and a half.